In 2001, we had the pleasure of spending a weekend in New York City "Ballfesting" with a group of fellow Michael Ball fans. Below are some pictures that we took during the adventure:

left: Don's favorite stop (thanks, Merrill!) right: our quarters for the event!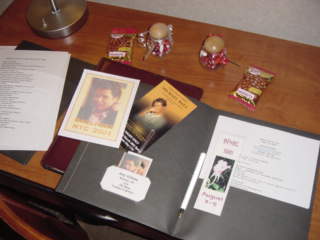 left: me with a "Mikey" pic right: more goodies!

The traditional Saturday night dinner (Marlowe's)

left: more Ballfesters... right: Jackie, sorting through the fabulous door prizes!

left: our guest of honor and friend of Greg Stone's, Todd Alan Johnson, currently in Aida

left: Jackie showing off her surprise gift right: Don relaxes at the Edison

left: Jackie & Merrill relax at Sam's at Sunday brunch right: fans admire the Michael album