Welcome to . . .
Autumn's Showcase
of Friends
Autumn proudly presents her "Showcase of Friends". She has been collecting photos of all of her animal friends. If you are a family pet and would like to have your picture posted in Autumn's Showcase, just email your photo to me!
This is "Frisky". Frisky lives in the Pennsylvania Dutch Country and got to see Santa in person!
Looks like Santa was busy this year! Here he is with Rocky Kiniorski. Rocky is pretending to be good so he can get treats for Christmas.
Here is another dog named "Lady". Lady is Micky's new sister!
Here is "Lady". Her real name is "Ardie" (short for Ardvark), but her Mommy and Daddy don't like that name. She is a purebred Sheltie puppy. She's a little shy and likes to hide behind the sofa at Grandma and Grandpa's house! Lady has sharp teeth and a long, pointed snout. She really looks like an aardvark!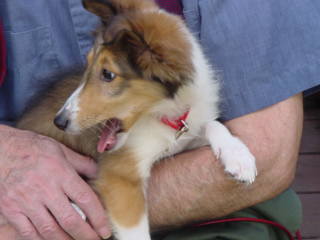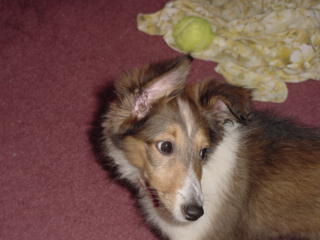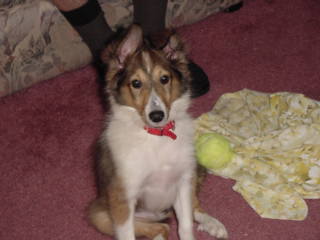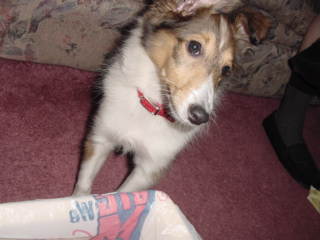 This is my new friend, Shadow! She likes to go camping in the woods. She is a very small kitty and had lots of fun spending Labor Day Weekend at Camp Thorn! She looks like her Mommy's shirt and sleeps in funny positions!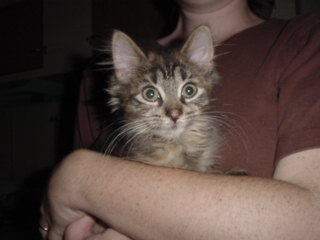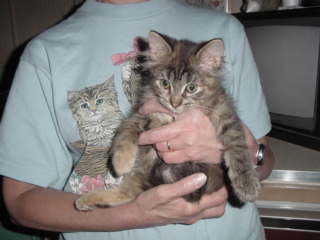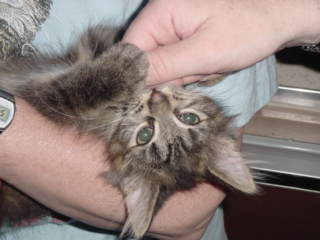 This is "Rocky" and "Rambo". They are Pugs who may be getting their own web site too! I don't know why an animal that's not a cat would want to have their own web site, but I guess its OK.

These are very good friends of mine, Kaly & Slater. I don't know why they have weird names. They have the run of the house all day. They are very lucky. Their Daddy just made them a nice new kitchen to eat in, too!

This is my friend "Micky". Micky is a dog. She lives in Hilton, NY with Barney and Fred (who are both cats). Mickey is very short and she doesn't have a tail. She told me that was because she is a pedigree.

This is Max. Max is Micky's new baby brother!

This is my friend "Rocky". Rocky used to live in New York City. He likes to cuddle with his favorite toy on the living room sofa while he waits for his mom and dad to come home from work. At his old house, he thought he heard gunshots and screams coming from the city during the day, and he'd get scared and poop in the bathtub. He moved to Rochester and now he doesn't poop in the bathtub anymore!

This is my cousin "Bandit". Bandit lives with Jennifer in Haverstraw. He likes to play on his perch and scratch the carpet! He must have very sharp claws! Don't you think that sharp claws should be surgically removed from all of us cats?

This is my friend, Buddy. When he escapes from the house, he likes to climb up the ladder to play on the roof. The only problem is that he is afraid to climb back down the ladder and he has to wait until his mommy, Norma, gets home to climb up the ladder and rescue him!