Welcome to .....
Our Holiday Pages!
This is our place to relax and enjoy the seasons of life and where we can watch the seasons of nature pass before us. We think of it as our back porch in the woods, where we can sit back in our comfortable chairs and contemplate the beauty of the simple things in life. It's the majesty of a golden autumn day at sunset, or the splendor of a babbling brook running through the woods at the dawn of a summer morning when the calls of awakening song birds welcome a glorious new day. Its the wonder in the winter silence when a blanket of pure white snow covers the frozen ground and the evergreen branches in the woods where a lone cardinal braves the chill of a short December day. Its the thrill in Spring of seeing the warm vernal sun melting through the fresh, new greenery and watching life awaken and burst through the sleeping countryside. You might find us curled up with a photo album, browsing through pictures of family events.
There is a trail that leads from the back porch out in to the woods. We call it the "Hickorynook Trail". You can follow our trail to another time and another season. There's magic along the trail that's ready for you to discover. It's always the weekend and often a holiday. Come share the seasons with us along the Hickorynook Trail!

The Seasons on Loughton Pond
Looking out from our back porch these days, we are watching the seasons pass on Loughton Pond. At the edge of our property is a pond surrounded by wooded trails and wild flowers. In Spring the birds chirp noisily in the budding trees. The great blue herons visit the pond to splash in the cool water and find dinner below the water's surface. During Summer evenings we can hear the frogs singing all night long in concert with the crickets. In Autumn the color of the foliage changes to a bright gold and ducks and geese visit on their journey south. Some say that the Phantom Ghost of Loughton Pond haunts the trails and visits the homes surrounding the pond leaving treats behind at every home he visits. In Winter the pond will freeze and become a picturesque scene of icy white. Being so near to the shore of the Great Lake Ontario, heavy "lake effect" snows will blanket the ground and send giant snow flakes descending down upon the ever whitening landscape. Take a walk with us from our back yard. Here are some pictures of our pond!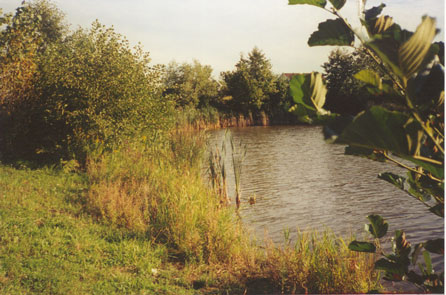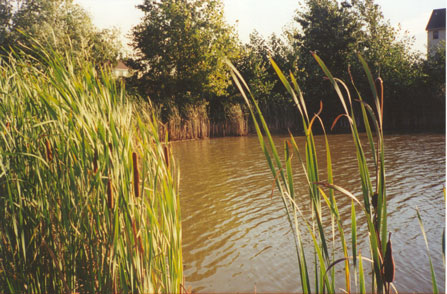 Today...